Vega Refinery
Living history of the Romanian refining industry
Vega is the second refinery of the KMG International Group, located in Ploiesti, county of Prahova, its activity being integrated with Petromidia Refinery.
Built back in 1905, it is the longest standing local facility, with more than 110 years of experience. It had a complex role of specialized link between the Romanian refineries from the very beginning.

The refinery has evolved from a traditional oil refining facility to a producer and supplier of special products obtained exclusively from semi-finished products supplied by Petromidia Refinery.
Sole producer of N-Hexane, refined white spirit and bitumen in Romania
With a processing capacity in excess of 350,000 tons of feedstock/year (refined, fuel oil, A1 jet, C5-C6 fraction), Vega Refinery is well positioned as the sole producer for a number of specific products, including: normal Hexane, organic solvents, refined white spirit, and other oil products (naphtha, white spirit, heating fuel, light liquid fuel, road pavement and special bitumen).
Experience in road bitumen
Vega has a history of over 90 years in production of road bitumen. In 2007, 7 million USD were invested in the first plant for polymer-modified road bitumen in Romania. It has a capacity of 66,000 tons of bitumen, polymer-modified bitumen and special bitumen per year
The special benefits of polymer-modified road bitumen are improved elasticity and higher resistance to wear and temperature changes, with a lifetime longer by 50% and traffic noise reduction properties.
Applications for the products of Vega Refinery of Ploiesti
Chemical and petrochemical industry; rubber industry:
polymerization solvents used to obtain polypropylene and high-density polyethylene in tire industry
Food industry:
food solvents, production of natural protein
Footwear industry:
cleaning agents for textiles and leather
Dye industry:
solvents for varnishes and adhesive components
Benefits of the current setup of Petromidia and Vega
Added-value products for the two refineries of KMG International. Vega sources feedstock 100% from Petromidia.

Better performance and enhanced flexibility for Vega Refinery driven by production and sale of 6 added-value products (Hexane, naphtha, solvents, refined white spirit, fuels and fuel oil, and bitumen) as compare to one single refined product as raw material for Steam Cracker.

Higher margins for Hexane and Organic Solventsas compared to sale of refined products/C5-C6 fraction (product associated with Naphtha) for Steam Cracker, or as component for gasoline with low octane number.

The sole refinery in Romania that produces 5,000 tons ofRefined White Spirit per year, a product which a higher margin that Jet A1.

In 2016, the market share for bitumen was around 15%

Higher margin for fuel oil processing in Vega (for bitumen production) vs. processing in the delayed coker in Petromidia.
Results 2018
In 2018, Vega refinery intends to reach a level of 387,000 tons of processed raw matters, on the increase by approximately 4% as compared to the volume recorded in 2017.
2015
2014
Vega, a living history of the Romanian refining industry Evolution of Vega Refinery
Hub for the other refineries refinery
from Romania
With Titu Maiorescu as Member in the Board of Directors, Vega Ploiesti started with a production capacity 200,000 tons of crude oil per year. When the refinery was designed in 1905, the particulars of the land were factored in, meaning gravity or natural fall was used to the arrangement of the crude oil tanks and the processing plants. However, a genuinely outstanding innovation came from the "father" of the refinery, Eng. PhD Lazar Edeleanu, who developed the base process for manufacturing of high-quality oils in Vega.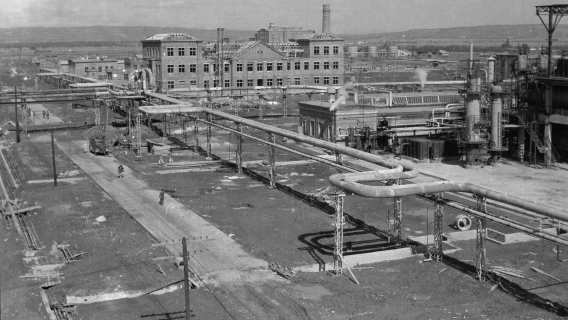 World War I
In 1915, the oil sector accounted for 63% of the total industrial investments made in Romania. In 1916Vega Refinery was bombarded, which affected its major plants and more than 80% of its 50 tanks.. Major investments in repairs followed, and in 1919, Vega was ranking 2ndof the 46 Romanian refineries.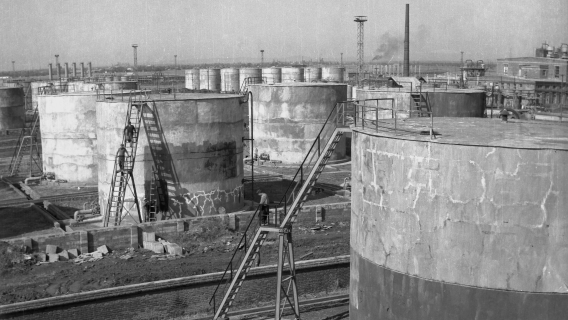 World War II
Being a strategic facility, the refinery was targeted by bombardments starting with 18 July 1941. Brick walls were erected around tanks, as well as protection walls up to 10 m high to keep safe the plants. One such brickwork-protected tank, and one Ingersoll air compressor dating from 1922 can still be seen operating in the refinery even today.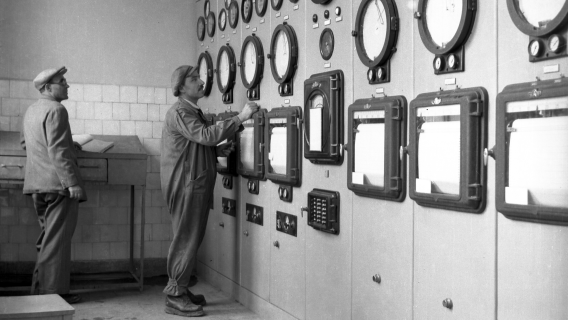 Establishment of the
Rompetrol Group
In 7 May 1999, Rompetrol acquired the control stock held by the State in the refinery. Following acquisition and integration of Petromidia Refinery in the Group, Vega became a supplier of special products and solutions.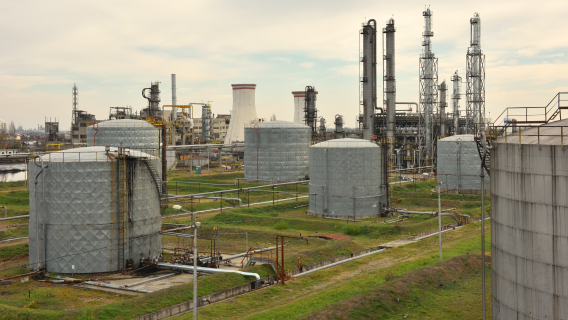 Development
A new dearomatization plant was built.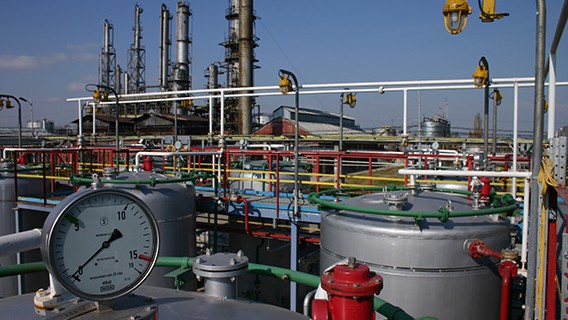 Construction and development
The bitumen plant is modernized and a new polymer-modified bitumen plant was built.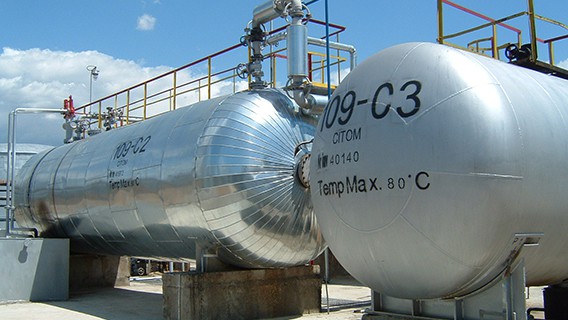 Development
The capacity of the Hexane plant was increased.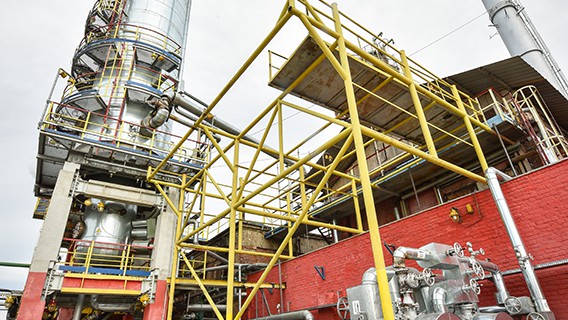 Upgrade
The vacuum distillation plant was modernized.