Petromidia Refinery

The pillar of the refining industry
The largest Romanian refinery and one of the most modern refineries in South East Europe, with a material impact in Dobrogea region and at national level.
Petromidia makes a significant contribution to development of Rompetrol's business in Romania and in the Black Sea region. It plugs in the trading and supply business lines with fuel distribution in Rompetrol's stations in Romania, Republic of Moldova, Bulgaria and Georgia.
Strategic positioning at the Black Sea
Petromidia enjoys a strategic position on the shores of the Black Sea, in Navodari, 20 km north of Port of Constanta.
Logistic benefits:
own marine terminal
facilities in Port of Midia: berths nos. 1-4 for crude oil and products, and berth no. 9 (A, B and C) for export of oil products.
own logistic railway system
access to Danube-Black Sea Canal
The marine terminal is the most important logistic asset of the refinery; it is located 8.6 km at sea, and can received ships of up to 160,000 TDW. With this terminal and the entire logistic system developed by the company in the region, Romania can become a regional energy hub, a connecting platform between the natural resources of Asia and the European demand for feedstock processing and production of oil products.
A complex refinery
Petromidia has a Nelson complexity index of 10.5, and processes crude oil with high sulphur content, obtaining only Euro-5 oil products.
Aligned to the BAT (Best Available Technologies) standards, Petromidia is also the first Romanian refinery to have successfully aligned to the European environmental regulations and fuel quality standards.
In order to achieve the current refinery complexity and ensure full compliance with the environmental requirements of the European Union, the Group invested over USD 450 million.
The refinery has the highest yield of white products in the region (85%), and ranks 9th among the 250 refineries in Europe and Africa*.
*Wood MacKenzie 2015
Production units of the refinery
This complex set allows the refinery to obtain high yields for its white products.

atmospheric and vacuum distillation units
full range of hydrotreatment units
one for gasoline
one for kerosene
two for diesel
mild hydrocracking
fluid catalytic cracking
delayed coker
new support units, such the sulphur recovery and tail gas treatment unit
hydrogen, nitrogen and flares plant
two modern line mixers for gasoline and diesel
Petromidia Refinery, 40 years of operation Results 2018
For 2018, Petromidia proposed to process a total quantity of 5.44 million tons of raw matters against the background of works specific to crude oil refining activities (decoking, regeneration and replacement of catalysts), after it reached in 2017 a level of 5.66 million tons.
| | 2014 | 2015 | 2016 | 2017 |
| --- | --- | --- | --- | --- |
| Total feedstock processed | | | | |
| White products yield | | | | |
| Diesel yield | | | | |
| Jet fuel yield | | | | |
| Energy Intensity Index | | | | |
| Mechanical availability | | | | |
Investments
2008 – 2012 - a new beginning
The most important engineering project was the program for modernization and refining capacity increase up to 5 million tons per year, amounting to more than USD 450 million.
Key objectives of modernization program:
Increasing the operational capacity of the refinery up to 5 million tons/year.
Meeting the EU and Romanian fuel quality standards - Euro-5 (regulation COM (2005) 693)
Increasing diesel production with 8% (from 37% up to 45%)
Rendering operation of the refinery compliant with the EU and Romanian environmental regulations (BAT system) (Directive 70/220/EEC)
Increasing mechanical availability and reliability for the refinery.
The new setup of the refinery includes:
Modernization of the Fluid Catalytic Cracking (FCC) plant (to process inflows from the Mild Cracking plant).
Modernization of the existing Claus plant (to reduce NOx emissions).
Modernization of the VGO hydro-treating to diesel plant (to process the increased future quantity of diesel).
Modernization of the amine plant (to process additional gas with hydrogen sulphide).
New Units
Mild Hydrocracking plant (the key unit of the modernization package).
The new hydrogen plant (to supply hydrogen to the retrofitted MHC and VGO HDT units).
A new sulphur recovery plant (to process the future sulphur capacity).
A new flares system (to support the new units and the existing refineries).
Increasing the N2 liquid evaporation and automation capacity (to supply nitrogen to the retrofitted refinery).
Key figures- modernization and capacity increase program
| Indicators | 2008 | 2012 |
| --- | --- | --- |
| Capacity in mil. tons/year | 3.5 | 5 |
| Nelson index* | 8.3 | 10.5 |
| Kerosene and diesel %wt | 2.6/38 | 5.5/45 |
| Diesel in mil. tons/year | 1.5 | 2.5 |
| Gasoline in mil. tons/year | 1.3 | 1.4 |
| Kerosene in mil. tons/year | 0.15 | 0.3 |
Modernization program in figures

200 engineering, procurement and construction companies involved.

4,000 people involved in all the projects of the Package

Approximately 200 pieces of main equipment, weighting around 13,000 tons.

Special lifting/hoisting and carriage for very heavy units (excess load of 450 tons).

Special soil consolidation works using 15 m poles.

Complex equipment installed (Catalytic Cracking reactor)
Evolution of Petromidia Refinery
Establishment of
ari Petrochemical Plant
In years 1970 – 1975, to attain the development programme of Romania, a decision was made to build the Midia Petrochemical Plant on the seacoast, to supply raw materials to different industries.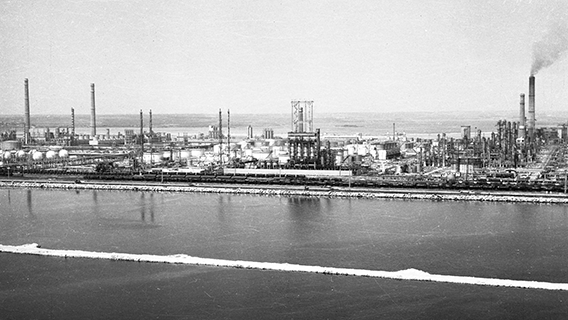 Land
consolidation
40 hectares of land are recovered from the Black Sea.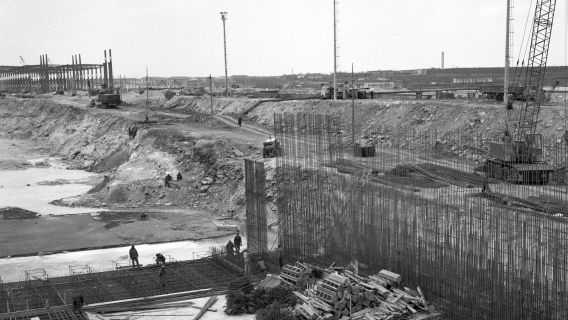 First
unit
In June, the first "Atmospheric Distillation" unit was started, together with the related process facilities - crude oil, gasoline, diesel and fuel oil tank fields.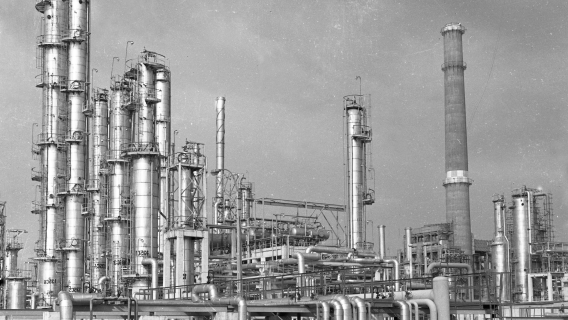 Transition to
an integrated plant
The remaining plants of the petrochemical facilities were commissioned. As many as 16 refinery and 7 petrochemical plants were designed, executed and integrated into the process flow of the platform.
Business
decentralization
After 1989, the enterprise was turned into a company, and changed its name from Midia Petrochemical Plant into SC Petromidia SA.
Market
restructuring
The business of the platform was shifted towards production of fuels and polymers, and the aromatic plant was shut down.
Acquisition by
Rompetrol
Under a sustained development plan, Petromidia aimed at turning into one of the most modern refineries in South East Europe.
The refinery has evolved steadily, and has always managed to bring added value through innovative projects, a rapid shift to quality Euro-5 products, energy efficiency, technological development, as well as a long-term vision.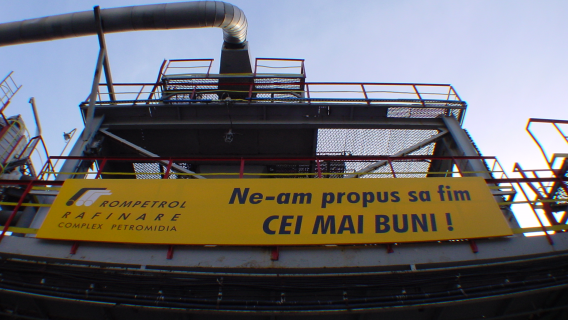 A first for
Romania
The Control and Command unit was built. A first for Romania, its role being to monitor all the data coming from the platform's units, by automating the refining and petrochemical operations.
Euro-5
fuels
Petromidia became the first local refinery to obtain Euro-5 diesel fuel (< 10ppm), 3 years before the statutory term for compliance with European standards.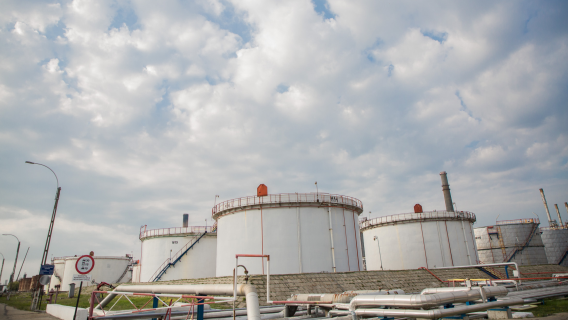 The largest
Romanian refinery
Program implemented for increasing the refining capacity to more than 5 million tons/year, and upgrading of the existing units.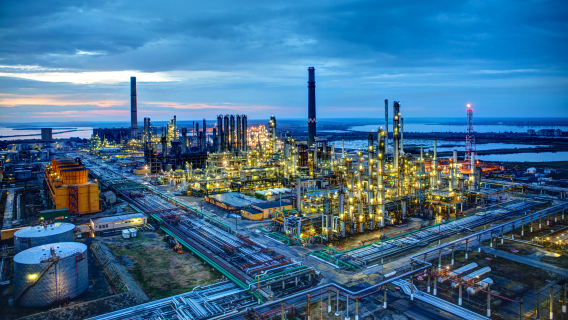 Historical
record
More than 5 million tons of feedstock processed, the highest quantity ever processed by a Romanian refinery.
Better-than-expected
results
Highlights: the highest quantity of feedstock processed daily (>15,000 tons); record for white oil products (85.7%); and best Energy Intensity Index (98.6%).
Best year in history
of the refinery
Record production of gasoline and diesel fuel at the lowest processing costs over the last 10 years.
The third year with
record outputs
The highest quantity of white products (gasoline, diesel and jet fuel) - 4.88 million tons, and an Energy Intensity Index of 99.96%.